Source: prepperfortress.com
By: DR. DAVID EIFRIG JR.
Posted on: MARCH 4, 2014
<
p>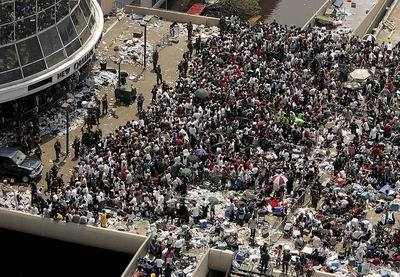 There has been a lot of derogatory talk lately about "preppers" and "survivalists." Here are 10 reasons why preppers and survivalists have always been vital to the United States and why it is essential that we have as many as possible to survive future disasters.
To start with, the titles "survivalist" and "prepper" would have seemed redundant a couple of generations ago. When the Greatest Generation was growing up, preparedness was simply a way of life. Before the Federal Emergency Management Agency, Social Security, Medicare, Medicaid and other Federal aid programs were around, people knew that they had to be able to take care of themselves in the event of natural and manmade disasters.
At the core, that's what survivalists and preppers are. They are people who are aware that life is full of uncertainty and who have decided to put things into place for when bad times happen.
With that, here is the top 10 list of why America depends on survivalists and preppers:
1. FEMA: The cost for local, state and Federal agencies to plan, equip and staff for everydisaster that might happen is cost-prohibitive. When disasters strike, government is quick to talk and quick to "ramp up," but government help is slow to come and inefficient when it arrives. The irony is how often highly qualified and motivated front-line first responders are prevented from doing as much as they could by top-heavy bureaucracies.
Survivalists and preppers, on the other hand, are able to act quickly and efficiently to take care of their own houses and provide stability, structure and assistance for their streets, neighborhoods and beyond. Because they know the terrain and the players in the areas where they live and operate, they can quickly establish stable micro-environments for recovery to grow from.
2. Stable base: An organization (or nation) of people with narrowly focused, specialized skills may accomplish great things when everything is going smoothly, but it quickly falls apart when trouble comes and key people are knocked out.
The survivalist and prepper mind-set of jack-of-all-trades makes for a stable organization (or nation). If the specialist falls or needs help, others can help pick up the slack — even if it means they're doing it at a slower speed or lower level of proficiency.
3. Joseph in the Bible: Preppers and survivalists have been around saving the day since the beginning of time. In Genesis 37-50, Joseph sees trouble coming and prepares for seven years. At the end of seven years, a severe drought and famine hit that last for the next seven years. Because of Joseph's preparations, Egypt survived the drought and famine and was able to help the surrounding nations.
4. Founding Fathers: With the Constitution and Bill of Rights, our Founding Fathers pushed responsibility from the Federal government down to the individual citizen and promoted a survivalist/prepper mentality. They did it with the 2nd and 4th Amendments, they did it by example (Washington leading a mostly barefoot army across the Delaware), and they did it throughout their writing.
5. Siege warfare: Many of the things that happened after Hurricane Katrina are textbook examples of why siege warfare is so effective. The normal city has a three-day supply of food. The normal prepper has a six- to 24-month supply of food.
Which do you think is more stable in the event of a siege that is due to disasters or war?
If you focus only on food and water supplies, a city, county, region or country with many preppers will be much more resilient to being cut off from outside help than one with few preppers.
[…]
Read the rest of this article and find other worthy stories by visiting prepperfortress.com
Fair Use Statement
The content of this post/pages/video may contain copyrighted ( © ) material, the use of which has not always been specifically authorized by the copyright owner. Such material is made available to advance understanding of ecological, political, human rights, economic, democratic, freedom, liberty, scientific, moral, ethical, and social justice issues, etc. It is believed that this constitutes a 'fair use' of any such copyrighted material as provided for in section 107 of the US Copyright Law. In accordance with Title 17 U.S.C. Section 107, this material is distributed without profit to those who have expressed a prior general interest in receiving similar information for research and educational purposes. For more information go to: cornell.edu If you wish to use copyrighted material from this site for purposes of your own that go beyond 'fair use', you must obtain permission from the copyright owner. If you are a copyright owner who would like your material removed or credited, please contact us at the CONTACT link above.