Source: survivalistprepper.net
By: DALE
Posted on: February 2014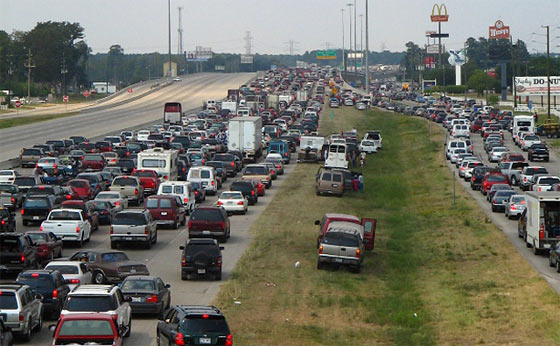 Everyone seems to be interested in bugging out, especially anyone who just became aware of preparedness or accidentally came across something on T.V. In reality Bugging out could mean life or death.
I personally have no desire to up and leave everything I have built up and I don't own a bus to put it all in.
Not only would we limited by the supplies we could take we would have to leave the security or our home and abandon all the work we have done inside and outside the house.
The fact is that at some point or another we might be faced with the situation of bugging out. Some people might choose not to leave and go out guns blazing, some people might have a location and a group of people set in place and are basically already bugged out and some people might not have even given it a second thought. If that is the case they might as well stay put because surviving in the middle of central park or in a F.E.M.A. camp is no life at all. This is exactly why I choose to plan now for the future.
Why would I Even Want to Bug Out?
Like I said, bugging out will be your last resort. For some people it might be the only resort but none the less what is the point of building our food storage and supplies if we are going to leave then at the drop of a hat.
There might be reasons however that leave us no choice. Situations might arise that force us to make a life or death decision.
War: military conflict on our soil whether that be from forces abroad or civil war could cause us to have to get out of dodge. If our home suddenly becomes too close to the front lines the odds of us fighting a military force are slim to none.
Nuclear Fallout: bugging out would depend a few different factors, the direction of the winds, how close you are to ground zero, can you out run the fallout and do you have a place to run. If none of these are possible you might be better off staying put inside your home making it as airtight as possible, keep in mind you still need air to breath.
Natural disaster: A wild fire, earthquake or flood could make our home uninhabitable and forcing us to bug out. This could be for a short period of time like here recently in Colorado or it could be a permanent move. If you live in an area where natural disasters are likely, having a bug out plan is a good idea.
Riots and Looters: At some point in a SHTF scenario you could find yourself right in the middle of it. One day everything seems fine and all of the sudden your neighborhood becomes a hot spot. Rioters and mobs take on a mind of their own, this is exactly what they mean by "mob mentality" although there is not much "thinking" going on during a riot.
Chemical "accidents": I put "accidents" I quotes because it always seems to be an "accident" when a company tries to cut corners and lower costs at the expense of public safety. If something were to happen at one of the many nuclear facility's sprinkled around the country we could be in for it. A disaster like this could cause damage for years to come.
Unforeseen circumstances: There are more reasons someone might need to bug out than I will list here, but as we all know even if we have a plan for everything we can possibly think of something always seems to sneak up on us.
Read the rest of this article and find other worthy stories by visiting survivalistprepper.net
*Fair Use Statement*
The content of this post/pages/video may contain copyrighted ( © ) material, the use of which has not always been specifically authorized by the copyright owner. Such material is made available to advance understanding of ecological, political, human rights, economic, democratic, freedom, liberty, scientific, moral, ethical, and social justice issues, etc. It is believed that this constitutes a 'fair use' of any such copyrighted material as provided for in section 107 of the US Copyright Law. In accordance with Title 17 U.S.C. Section 107, this material is distributed without profit to those who have expressed a prior general interest in receiving similar information for research and educational purposes. For more information go to: cornell.edu If you wish to use copyrighted material from this site for purposes of your own that go beyond 'fair use', you must obtain permission from the copyright owner. If you are a copyright owner who would like your material removed or credited, please contact us at the CONTACT link above.